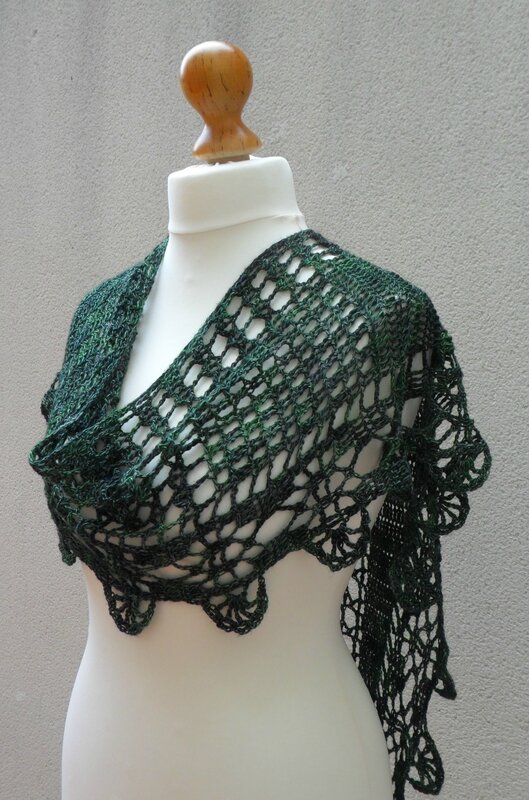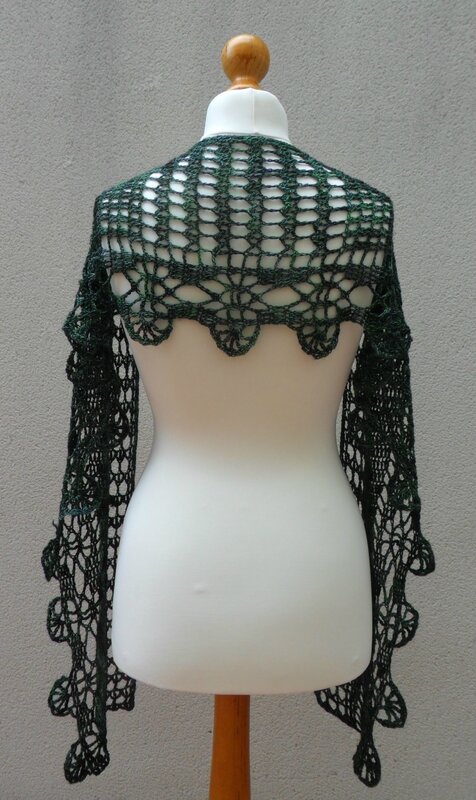 Voici une nouvelle version du châle Marine . Il est crocheté avec un fil Chez "Dream in color", "Jilly" laine de merino. Crochet 4mm.
Le tuto Pdf avec des explications très claires, des diagrammes est écrit en anglais et FRANÇAIS . Le patron du châle a été testé sur Ravelry.
Vous pouvez telecharger sur Ravelry ou Etsy (4.59 euros)
Merci de votres gentils commentaires!
****
The body of the wrap begins with a small number of stitches and then gradually increases. After the widest point is reached, the number of stitches gradually decrease until a very long triangle is achieved.
The different lace patterns within the piece make it interesting, and the simplicity of the shaping allows for personal adjustments, dependent on yarn and size required.
The pattern is very easy to modulate in a bigger size if necessary.
Difficulty: Overall, I would rate this pattern as suitable for an intermediate crocheter, because of its complexity, although it would not be too difficult for a beginner.(Chain stitch, single crochet, double crochet, Dc2together, trebble, slip stitch).
PDF-english/french: Abbreviated written instructions and chart. Written in US crochet terms.
Has been tested.
Thanks!
***
Nueva version del chal Marine, tejido con lana merino "Jilly"de la casa americana "Dream in color", color dive, aguja de ganchillo 4 mm.
El patron tutorial, explicado en inglés y francés, con varios diagramas, ha sido testado en Ravelry.
Se puede descargar en Ravelry o Etsy (4. 59 euros).
Gracias por vuestros gentiles comentarios.